Ekialo Kiona  "Worldwide" Center
The Ekialo Kiona Center is the trunk that supports the Organic Health Response tree on Mfangano Island. In the Suba Language, Ekialo Kiona can be translated as "whole world" or the "whole community". This center seeks to provide space where both populations can work together to find creative solutions to local and global problems.   The "EK", as we call it, is our HQ on Mfangano Island. Its our administrative umbrella, solar-powered field-station, training center, mountain bike shop, and favorite lunch spot.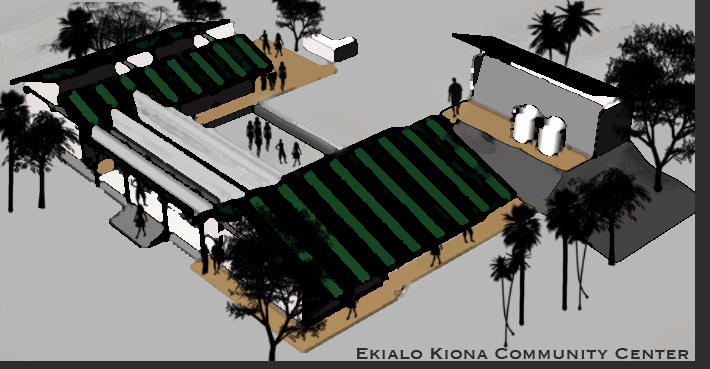 This 8,000 sq-ft facility features the following components:
Solar-powered Inveneo computer lab with broadband wireless Internet access
Confidential Voluntary Counseling and Testing  (VCT) rooms
Lecture hall, workshop rooms, and movie theater
Mountain bike repair shop
Organic demonstration farm and tree nursery
Solar-powered community radio studio
Large outdoor ampitheater
KEMRI certified research and data storage facility
Library local and international literature
Breakfast cafe and restaurant
The Ekialo Kiona Center is owned and managed by the people of Mfangano. The Ekialo Kiona Center operates as a community wide "Post-Test Club" providing unlimited free access to meaningful resources and services to all residents who agree to participate in regular HIV counseling and testing. EK Club members enroll and reactivate their membership through confidential HIV counseling and testing sessions with onsite counselors every 6-months.  Over 2000 members have joined the EK Club, and new members learn their HIV status everyday.
This center is built on land that was generously donated by Mfangano's first organic farmer, a community leader named Joel Oguta.
Rather than hiring contractors from the mainland, we decided to build the EK ourselves. This open space facility was built by hand, over 3 years, by a team of over 60 local carpenters, welders and masons, who came to be known as the EK Sustianable Design Guild.
Led by Mookie Tierney, Adam Sewall and Gabby Ogweno the EK Sustinable Design Guild constructed this facility using a sustainable technique known as ferro-cement (an eco-friendly and cost-efficient building material). In the process, we were able to provide employment, training, and livelihoods for dozens of Mfangano families, and establish Mfangano's first independently owned contracting company.
The Evolution of EK…
Stone by Stone…