Ekialo Kiona Suba Youth Radio
MISSION:
The Ekialo Kiona Suba Youth Radio or EK-FM is a for-youth, by-youth community radio station on Mfangano Island, Kenya. Produced in Suba language, EK FM affords a unique channel to target the health crisis and marginalization of the Abasuba people through expression, solidarity, and revitalization of heritage and culture.

BACKGROUND:
Mfangano Island, Kenya in the heart of Lake Victoria remains one of the few places on this planet with first-language Suba speakers, yet few places have been hit harder by HIV/AIDS. Only 10 miles off the mainland, this remote island lacks necessary health infrastructure and environmental regulation, is often stigmatized because of the high HIV prevalence and receives little help from the Kenyan government. Radio programming is seldom broadcast in the Suba language and rarely if ever addresses itself to the specific concerns and history of the Suba people. Dissemination of valuable information in a timely manner is critical to sustainability for many living in this rural community. With only 119,000 Suba speakers remaining, the future of Abasuba lies in continuing to foster community and youth discussion as a part of a holistic and sustainable approach to HIV/AIDS treatment and prevention.
PROGRAM DESCRIPTION:
In June 2012, OHR along with SF-based partner, Inveneo, successfully deployed a 90km wireless Internet connection from Kisumu, Kenya to the top of Soklo Mountain on Mfangano and down to the Ekialo Kiona Center in Kitawi Beach. This wireless connection is the longest and most challenging link in East Africa, due to the connection over water. Operated out of the Ekialo Kiona Community Center on Mfangano Island, EK Suba Youth Radio transmits across this Internet connection from the EK Center, up to Soklo Mountain and is broadcast from Africa's first wind & solar-powered 500 watt FM transmitter 80-km into Lake Victoria. EK FM – 88.3, was officially launched on December 1, 2012!
PROGRAM ACTIVITIES:
Currently EK FM broadcasts 12 hours a day.
Each week our radio team creates program content and airs hour-long shows covering health, sustainable agriculture and fishing, Suba culture and language, and youth empowerment.
When not on-air, our team gathers Suba histories from across the region and records interviews and oral stories with elders. In an effort to revive the diminishing Suba culture and way of life, this material, along with original music by local Suba artists, is currently being broadcast several times each week.
EK FM connects over 50+ microclinics organized and registered on Mfangano with a mission to improve HIV literacy, attitudes and behaviors in the community.
In partnership with Kenya Community Media Network, EK-FM hosts multiple radio, journalism and media trainings a year to build the capacity of EK-FM staff, alongside members from 8+ community radio stations across Kenya.
The EK Radio Team is comprised of 1 Radio Coordinator, 4 Youth Presenters, and 1 Youth Editor/Interviewer.
PARTNERS:
Kenya Community Media Network (KCOMNET)
Inveneo: deployed a 90-km broadband Internet link at EK Center to transmit EK FM's waves off Soklo Mountain, ranging 80-km across lake victoria
MicroClinic International is working with us to develop Microclinic specific content on the radio to support our network of "Kanyaklas" across Mfangano Island
Access:Energy: Installed 1kw wind-turbine + solar system atop Soklo mountain to completely power EK FM over a 5-day deployment
Nepalese Radio Engineer, Pawan Prakash Upreti: set up EK FM's 500 watt FM Stereo Transmitter on top Soklo Mountain and connected transmission to EK FM's studio site located within the Ekialo Kiona Center at Kitawi Beach. Pawan generously donated his time and skills to complete this project.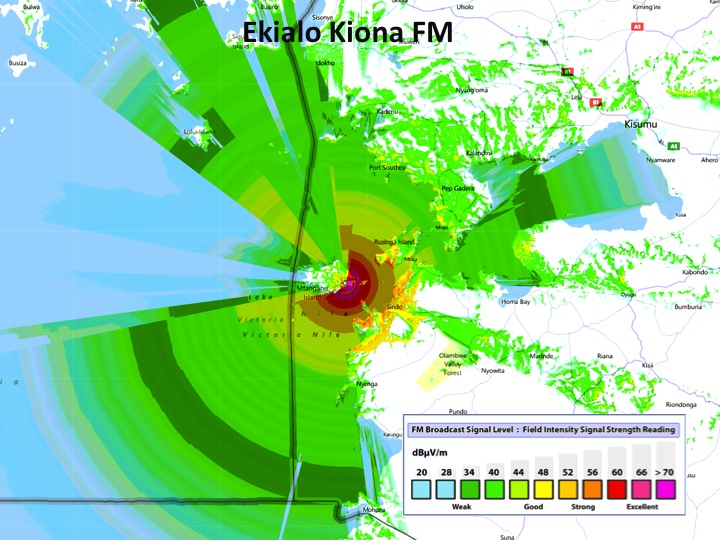 Radio Broadcast Map from EK FM transmitter site on Soklo Mountain, Courtesy of Equal Access