Health Navigation & Emergency Response
MISSION:
OHR's Health Navigators help patients steer through rough waters and tough times by providing first aid, urgent transport, care coordination, and patient advocacy for Mfangano Island residents during emergency.
BACKGROUND:
We've seen through personal experience and community research that the health needs of Lake Victoria are expansive and intense. Few facilities exist for health care on Mfangano Island, and families are frequently faced with critical decisions about when and how ill patients can access healthcare on the mainland, 2-3 hours away. Delays in making and enacting these decisions have disastrous consequences for expectant mothers and critically ill patients.
In Fall 2011, OHR extended the breadth of its health solidarity services by launching an emergency response program to address the lack of emergency health support on Mfangano Island. The program's original emergency boat, donated by a local fisherman, was the region's first ambulance. In the Spring 2014, responders from Glenwood Springs, Colorado and around the world helped OHR raise funds to construct a customized new emergency boat. Thirty-five feet long, built by hand at Kitenyi Beach, specially equipped for speedy and safe travel, and captained by Walter Opiyo the new EK Emergency Boat increases access to urgent care for all Mfangano Island residents.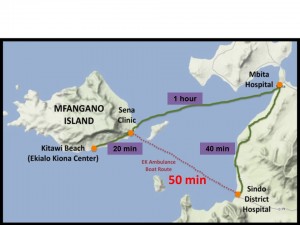 In Summer 2014, The Ekialo Kiona Health Navigation team, consisting of ten community health workers, was trained in basic first-aid, urgent care coordination, and patient advocacy. They are charged to respond quickly in the time of emergency, provide urgent care, facilitate safe emergency transport, increase health care referrals, and improve access to health facilities for rural Mfangano residents. In 2016, an additional 10 community health workers joined our team, making a total of 20 Health Navigators in action!
PROGRAM DESCRIPTION:
HEALTH NAVIGATORS: A NOVEL APPROACH TO RURAL EMERGENCY CARE:
Summer 2014 brought the biggest improvement yet for the program – the recruitment and training of an innovative group of community health workers to be the region's first Health Navigators! Led by Peres Okinyi, Health Navigators intersect patients at the critical crossroads of their illnesses to act as clinical liaisons and patient advocates.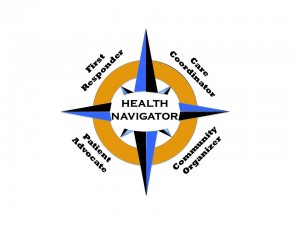 A Health Navigator is a unique health captain:
One part Emergency First Responder
One part Care Coordinator
One part Patient Advocate
One part Community Organizer
During stressful emergency situations, a Health Navigator responds with basic first aid, coordinates local transport on our fleet of motorbikes, and facilitates clear communication between the patient and provider, ensuring that each patient understands the severity of the illness and the potential care pathways. Utilizing up-to-date knowledge of the regional resources, the Health Navigator assists the clinician and patient in making safe and individualized triage decisions. The Navigator will then coordinate the swift response of the EK Emergency Boat – the only of its kind in the region – and communicate advanced notice to mainland health facilities. Successful Health Navigators also provide emotional support and follow-up to distressed families as an experienced and trusted community advocate.Finally, to lessen the impact of obstetric emergencies, Health Navigators and Traditional Birth Attendants encourage pregnant women and their families to develop and implement safe delivery plans. Health Navigators also conduct antenatal and postnatal care referrals, to ensure each family accesses the care they need.
PROGRAM ACTIVITIES:

Locally built and maintain a 35ft wooden skiff & 40hp outboard motor for emergency medical transport
Train and employ a local, on-call ambulance crew, consisting of local boat & motorcycle drivers
Provide 24-hr emergency medical transport from homes and villages to regional health facilities for any Mfangano residents, regardless of ability to pay
Train local Kenyans in basic life support and wilderness medicine to activate them to be the first of many community "Health Navigators"
Support maternal health through promotion of individual "Birth Plans", referrals for antenatal/postnatal care, maintenance of community birth registries, and provision of delivery transportation
Partner with local & international health professionals to conduct an annual regional health resource assessment. By visiting & surveying all the major clinics & hospitals surrounding the island, this assessment serves as the basis for the EK Health Navigation protocol, and has been disseminated to local health service partners
Advocate for and coordinate the acquisition of emergency medical supplies for villages, clinics, and hospitals of Suba District
Research & collaborate with local stakeholders & international partners to design and evaluate pilot curriculum for the training & utilization of "Health Navigators"