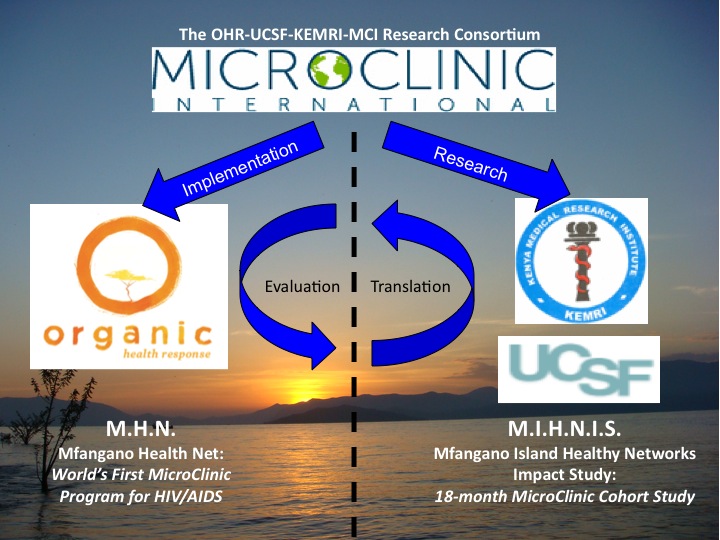 MIHNIS is 18-month longitudinal cohort study with primary and secondary research objectives:
1) to evaluate the long-term effectiveness of the microclinic social networking strategy in improving antiretroviral medication adherence and clinical outcomes for HIV infected individuals, as well as measures of social support, stigma, and risk behavior for all members of these HIV-affected networks;
2) to assess the feasibility of hair specimen analysis as a novel and objective biomarker to quantify antiretroviral medication adherence at both an individual and community level in resource-limited settings.
Background:
Since 2006, HIV/AIDS treatment services, including provision of highly active anti-retroviral therapy (HAART), has scaled-up in Western Kenya through the Family AIDS Care and Education Services program (FACES), a collaboration between University of California, San Francisco (UCSF) and the Kenyan Medical Research Institute (KEMRI). Despite HAART treatment that is now widely available, utilization and adherence on Mfangano Island remains impeded by factors such as HIV stigma, loss-to-follow-up, poverty, food insecurity, and lack of social support services[i],[ii],[iii]. To improve treatment and prevention outcomes, we argue that the unit of intervention in any effective HIV program should be redefined as the HIV-affected social network. Taking into consideration network phenomena, primary prevention efforts need to include treatment for sick individuals; at the same time, optimized treatment for infected individuals must also incorporate knowledge and skills training for all members of their social support systems. There are few field studies evaluating social networking approaches to HIV/AIDS in Africa, and rigorous research in this emerging field is urgently needed.
[i] Ohiokpehai, Omo et al. 2007. "Socioeconomic and demographic profiles of households with children aged 6-59 months, Mbita Division, Suba District, Kenya." Journal of Food, Agriculture and Environment. Vol 5 (2): 45-49
[ii] Seeley, Janet A. and Allison, Edward H.(2005)'HIV/AIDS in fishing communities: Challenges to delivering antiretroviral therapy to vulnerable groups' AIDS Care,17:6,688 — 697
[iii] Mfangano Heath Baseline Study. 2010. UCSF Global Health Frameworks Program/ Organic Health Response. Preliminary Data Analysis. (unpublished)
 Primary Research Questions:
1) Do FACES patients on HAART medicationwho participate in the micro-clinic social networking program show improved HAART Adherence compared to non-participating FACES patients on HAART, as demonstrated by the validated AIDS Clinical Trial Group survey instrument and hair sample analysis?
2) Do FACES patients who participate in the micro-clinic program demonstrate improved Clinical Outcomes over the course of the study period compared to non-participating FACES clients, as measured by clinical chart review of overall mortality, World Health Organization HIV/AIDS Staging Criteria, CD4 count, opportunistic infections, body mass index, and other markers of treatment failure?
3) Do associated social network members who participate in the micro-clinic program demonstrate improvements in Social Support indicatorsat follow-up compared to baseline as measured by validated survey instruments including the Duke-UNC Social Support Scale, the Household Food Insecurity Access Scale, Mfangano Health Baseline HIV Risk Behavior Scale, The HIV Knowledge Questionnaire ("HIV-KQ-18"), and the Attributed HIV Stigma Attitudes Scale?
Methodology:
Through quantitative and qualitative methodologies, including clinical chart reviews, laboratory hair sample assays, validated survey instruments, focus groups and participant observation by trained medical anthropologists, the MINHIS study will provide actionable programmatic data for clinicians and health organizations across Western Kenya. Most importantly, this study will contribute at the forefront of an emerging global health literature regarding information technologies and social networking approaches for integrated HIV/AIDS treatment and prevention in resource-limited settings.
 Contact:
Chas Salmen, MIHNIS Lead Investigator: csalmen [at] organichealthresponse [dot] org
Matt Hickey, Co-Director of Research: matt [dot] hickey [at] ucsf [dot] edu