OHR-EK COVID-19 Response:
1. Community Education Materials:
The Organic Health Response – Ekialo Kiona (OHR-EK) team is working with Master of Public Health (MPH) students at the University of Minnesota (USA) and Maseno University (Kenya) to design pamphlets that are being distributed around Mfangano Island to provide relevant, up-to-date, and accurate information to the community on protection from and prevention of COVID-19 (Figure 1). Additionally, MPH students have been providing Health Navigators with weekly COVID-19 updates and SMS messages, including epidemiologic data, Ministry of Health/Government information, and other important topics for community health workers.
Check out our most recent pamphlet!
Figure 1 (above): Community education and health promotion pamphlets created by MPH students for distribution throughout Mfangano. Click through the slide show to see other pamphlets or download them by clicking on the links below!
All COVID-19 pamphlets created by the OHR-EK team can be found here:
OHR_Social Distancing_May 2020
OHR_TippyTap_Instructions_May 2020
OHR_Domestic_Violence_July_2020
OHR_Coping_with_Stress_July_2020
Feel free to use and disseminate these resources!
Master of Development Practice (MDP) students from the University of Minnesota have been working on COVID-19 radio messaging by collaborating with the EK-FM Radio Station team to increase community preparedness. The talk shows and radio bulletins that are being produced include important coronavirus updates and community prevention strategies. Read more about the EK-FM Radio Station!
IMAGE 1 (above): In the studio, James Adika, one of the talk show hosts for EK-FM 88.3, is live on air and broadcasting educational information about COVID-19.
All information contained in these community education resources is drawn from reputable sources, such as the CDC, UNICEF and the WHO. Each resource is reviewed by OHR physician health advisors prior to publication.
---
2. Clinical Care and Coordination:
The Health Navigation (HN) Emergency Response program continues to provide critical transportation services on Lake Victoria throughout the pandemic. The HN Emergency Response team transfers patients from Mfangano Island to mainland Kenya during maternal and child health emergencies (Image 1).
OHR-EK has also been helping provide adequate amounts of Personal Protective Equipment (PPE) to all HN staff and other Ministry of Health patterns in remote and under-resources locations in Kenya. PPE is crucial in protecting dedicated health care workers and emergency responders from COVID-19.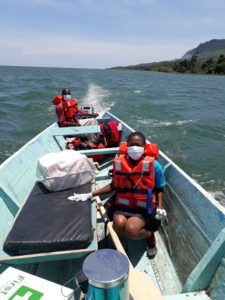 IMAGE 2 (above): Walter Opiyo, EK Emergency Boat Captain, and Sholasttica Otieno, Community Health Nurse, prepare to transport a patient in critical condition from Mfangano Island to the mainland hospital.
---
3. Hand-Washing Promotion:
OHR-EK has teamed up with community members to provide hand-washing stations at the Ekialo Kiona Center as well as other community centers on Mfangano. The stations include soap and water to help prevent COVID-19 (Image 2). Community health workers have also prioritized educating the public on the importance of hand-washing and how to make hand-washing stations (e.g. Tippy Taps) at home!
IMAGE 3 (above): A hand washing station, equipped with soap and water, sits at a community center on Mfangano Island. Similar hand washing stations are available at other locations across the island.
---
4. Locally-Made Face Masks:
Face masks have been shown to slow the spread of COVID-19 and have been mandated in public settings by the Government of Kenya. Tailors on Mfangano Island are sewing masks from locally sourced materials and making them available to community members (Image 3).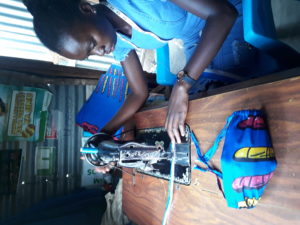 IMAGE 4 (above): A local tailor on Mfangano stitches a kitenge face mask using a sewing machine and locally-sourced materials. Many masks are being produced for community members to protect themselves from COVID-19.
---
Read more about the work Organic Health Response-Ekialo Kiona is doing to help combat COVID-19!
Wan Kanyakla (We are together)