In partnership with Organic Health Response, the University of Minnesota, Maseno University, and the Ministry of Health, EK-FM 88.3 Radio launched a new daily hour-long talk show in July 2020 titled "Wanyalo Loyo Korona Kanyakla" or "We Can Face Corona Together." The main aim of Wanyalo Loyo Korona Kanyakla was to provide the Mfangano Island and surrounding communities with accurate health information around COVID-19. The show provided an interactive and open space where the community could discuss the impacts of this pandemic on Mfangano Island society and how it relates to the ongoing cultural conversations regarding Suba and Luo heritage on Lake Victoria. Led by Samwel Karan, the EK-FM manager, EK-FM focused in on a different COVID related topic every two weeks, bringing in experts and encouraging audience engagement. The first phase of the show went on for 8 weeks covering 4 themes, including an overview of COVID-19, mental health and stigma in the time of COVID and the challenging issue of domestic violence.
In order to ensure the content in the radio bulletins were up-to-date and factual, the team consisted of a diverse group made up of physicians from Organic Health Response, Masters of Public Health Students from both the University of Minnesota and Maseno University in Kenya, Masters of Development Practice Students from the University of Minnesota, and radio presenters at EK-FM Radio Station. The Masters of Development Practice (MDP) students, Aimee Carlson and Neamatallah Elsayed, were the primary authors of the first three topics, with input and feedback from all other team members.
To encourage sustainability of the program and further build the capacity of the radio presenters, the MDP students virtually trained six EK-FM radio presenters on how to develop radio content, find reliable resources, and create engaging graphics for social media. Following the completion of this training, the radio presenters developed the content for Topic 4 with support and guidance from the MDP students.
"Wanyalo Loyo Korona Kanyakla" broadcasted from July to October 2020 and has a broader vision of transitioning beyond COVID-19 awareness and activating community conversations around other critical issues on the Island such as deforestation, stigma and high rates of HIV infection amongst youth.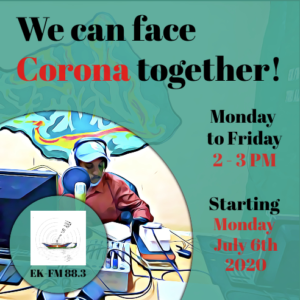 A special thank you goes to the devoted EK-FM radio presenters who went above and beyond to keep the station running during difficult times with engaging and unique content: Benard Oketch, Beryl Salah, Erick Omondi, James Adika, Moses Okumu, Suleiman Ogweno & John Odhiambo. We also recognize the thoughtful assistance from Master of Public Health Student, Elias Owuor, from the University of Maseno.
We appreciate the dedicated support over the years from Craig Newmark Philanthropies for helping the local radio station expand and thrive!