In the spirit of giving thanks this holiday season, help get EK-FM Radio, a beloved community radio station in Mfangano Island, Kenya back on the air! To learn more and donate this #GivingTuesday, visit https://saveourradio.causevox.com/.
EK-FM Radio is a local community radio station that is operated by the Ekialo Kiona ("EK") Center, in partnership with Organic Health Response, on Mfangano Island in western Kenya.
Sustained by wind and solar power and administered by local youth, EK FM Radio provides a popular and eclectic array of cultural, environmental, and public health programming to over 200,000 listeners along the shores of Lake Victoria, the largest lake in Africa.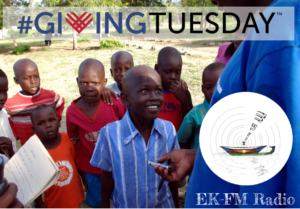 The Problem:
In 2017, EK-FM Radio was forced to shut down indefinitely because of permanent hardware damages to the station's transmitter that were caused by an electrical storm surge. Your donation will help the EK Center purchase an urgently needed FM stereo transmitter and related equipment.
The work of EK FM Radio is more critical than ever.
Radio is by far the dominant and most important mass medium in Africa. Community radio stations have the unique ability to connect isolated communities and disseminate critical information .
EK FM is the only radio station in the region to broadcast in Suba, an ancient Bantu language that came to Mfangano Island with its first inhabitants – Abacunta clans who escaped political persecution in Uganda over 15 generations ago.
Islanders lived in relative isolation until 1954, when a lucrative but invasive species of fish, the Nile perch, was introduced into Lake Victoria's waters. A commercial fishing boom followed that decimating the region's marine biodiversity, attracting thousands of workers from every corner of East Africa.
The industry eventually declined after the 1980s, devastating the island's economy, environment and public health. Today, Mfangano has one of the most HIV-impacted populations on the planet, with a 30% infection rate that is 5 times higher than Kenya's national average.
Since then, Mfangano Island has also suffered from widespread cultural erosion due to the school language policies and the influx of mainland Kenyans from other regions. Today, Suba is classified as a UNESCO endangered language.
Help us reach our goal of raising $5,000 today! Donate at www.saveourradio.causevox.com.