Mfangano can now boast of it's first-ever wind turbine. Last week, the OHR crew worked alongside Dr. Sam Duby and his team from Access:Energy to install a hybrid wind + solar power system on top Soklo Mountain on Mfangano Island.
During 4 hardworking days this crew completed a challenging install amidst several setbacks in a very remote setting. All equipment, including masts, turbines, props, batteries, panels, racks, tools and more, were hiked up the mountain by hand and back in serious muddy conditions. With determination and skill the 1kw wind turbine was successfully erected and connected to the 220w solar paneling and batteries. Power is up and there is a lot of it!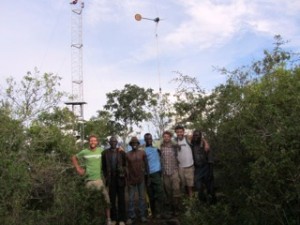 Next month our friends from Inveneo and Byce Broadcast will join us on Mfangano to install a 70-km broadband Internet connection as well as the EK Radio transmission system. This turbine will power each of these systems, making EK Radio sub-Saharan's first-ever wind powered radio!
A huge thanks to Sam Duby and his team. Access:Energy, a sustainable energy collective based in Kisumu, works to design, locally source and manufacture, and install appropriate energy services to rural households throughout East Africa. Without access to grid electricity, Access:Energy's award-winning Heron Wind Turbine provides many rural communities renewable energy that is reliable, safe and cheap.